Is there a more iconic, prestigious, or influential city in the world than New York? Not according to Insider who rates New York the No. 1 city in the world. It's true that you can find different surveys with maybe one city or another taking the top spot, but New York will always be near the top and is often perched at the pinnacle.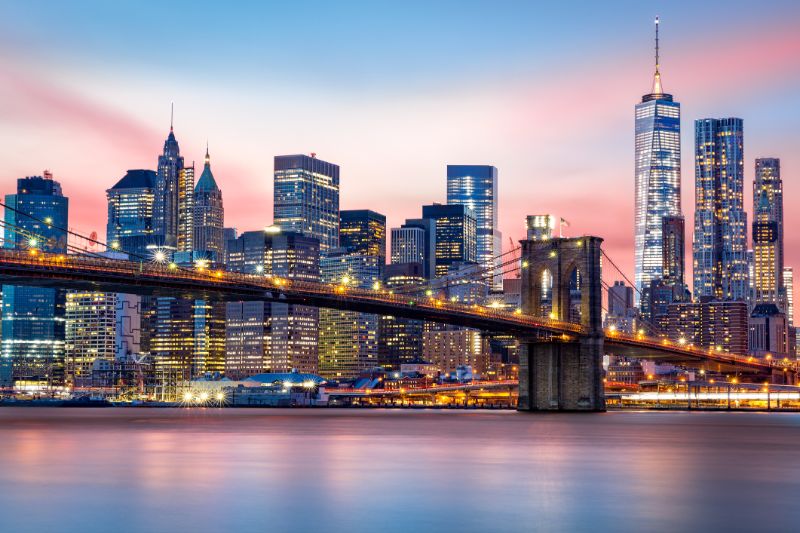 While moving to New York does mean having to find a good home to get the most out of the city, it's not as hard as many might think. With the right help, landing a luxury home is within reach, and while prices are higher than for other cities, getting a luxury home in New York means that you get to live the finest life in the finest city in the world.
Table of Contents
A brief history of New York
What started off as Dutch controlled New Amsterdam in 1626, became New York in 1664 when the English took control of the area. As one of the first 13 American colonies, it would play a significant role in the tumultuous history that would lead to America's independence from Britain and America's rise as one of the greatest nations.
How many movies have portrayed the immigrant migration to America, with people looking for a better life? Many of them came through this city. Millions arrived in New York from the late 19th century to the mid 20th. It is estimated that almost half of Americans can find an ancestor who came to America through New York. This, and continual waves of migration and visitation has led to the city being one of the most dynamic, diverse, and creative places on earth.
Living in New York
To live in New York is to live in probably the most iconic city on Earth. With the city popularized by print and cinema; visitors and residents can instantly recognize many of the landmarks, areas, and the skyline. Ask someone to think of a landmark in New York and it won't take them long: The Statue of Liberty, Times Square, Central Park; the list goes on. Living in New York feels like being part of a greater history.
Music, Arts, and Culture
Museums
New York is home to 140 museums, that's a staggering amount, however, there are other places in the world which have more. What makes New York great is the quality of the museums. The city boasts some of the best museums in the country and the world.
There's The Metropolitan Museum of Art, one of the biggest museums in the world showcasing art and culture from around the globe. To give you an idea of its size, it has a 2,000 year old Egyptian temple as one of its many draws.
Then there's the American Museum of Natural History. Possessing one of the most comprehensive collections in the world – it holds 33 million specimens – it is possibly only rivalled by the British Natural History Museum or the similarly named museum in Washington.
Art
Just take Manhattan itself and you're already at an epicenter of art. There's the Guggenheim which some would argue is architecturally a work of art in itself. It houses work from Van Gogh, Rene Magritte, and Francis Bacon as well as a raft of other acclaimed artists.
There's also the Museum of Modern Art showcasing some of the most exciting and thought-provoking pieces and ideas of the modern era.
Beyond Manhattan, there's a thriving art scene showing how art emerges from the cultures we live in. New York is not monolithic in its culture; like all the best cities, the variations and distinct charms of each area come out, making the whole city feel like an adventure.
Andy Warhol and Stanley Kubrick made their homes in New York and helped attract a generation of artists to the city. This city constantly brings in some of the most radical and creative thinkers, consistently disrupting norms and pushing boundaries. This creative energy is an irresistible draw, a magnet for creative people all over the world. And what's more, it has a massive impact not only on the culture but also the economics of the city.
Music
America is celebrated for its contribution to the world of music. There's too many hotspots to mention all the great places around the US celebrated for music; there's Nashville for country, New Orleans for Jazz, Seattle for Grunge and so on. New York celebrates and is part of the history of all these movements.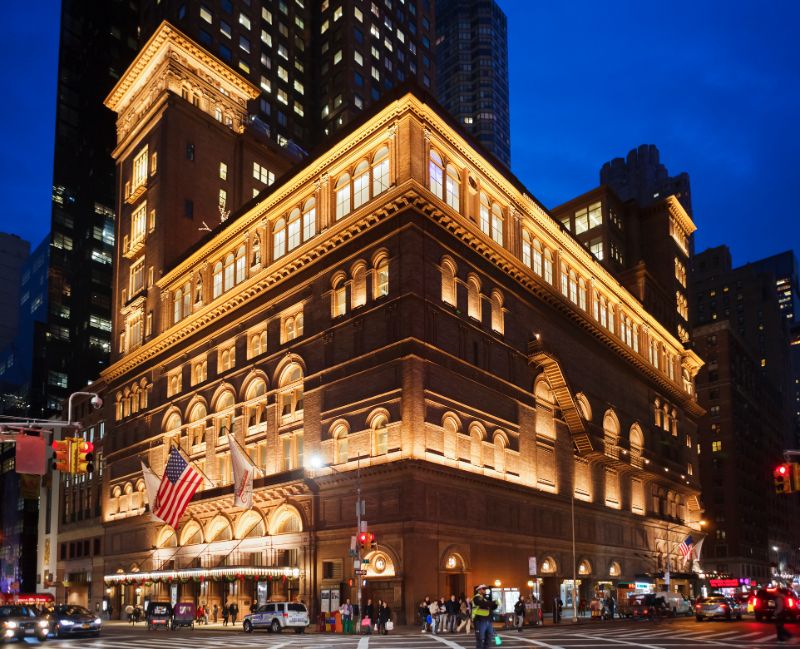 The city has always kept at the forefront in the development and performance of music. In the early 20th century George Gershwin perfectly captured the grandeur and promise of New York in his Rhapsody in Blue, blending and blurring classical, jazz, and blues.
Later in the 1980's New York gave birth to one of the most infectious dance scenes and became a part of a New Wave movement in the US and the UK.
New York took the best music from all the diverse people who lived there and made it better, but there is one musical form it can claim to have created, Hip Hop. From the South Bronx in the 1970s, amongst some of the underprivileged citizens of the city, came a musical form that would eventually become as established and global as any current musical form.
If you're a fan of musicals and shows, no city comes close to what New York offers. New York is home to 420 theatres, 41 of them large enough to be considered Broadway theatres. In comparison, London's West End, the next largest hub for theatres, (in terms of revenue generated) has only 214. Broadway brought in almost $15 billion to the economy of New York in the 2018-2019 season and accounted for almost 100,000 jobs. New Yorkers like money, they love their music.
New York is a great musical city. It even has 3 of the best songs about a city performed by 4 of the greatest performers from different eras. Ask Frank Sinatra, Billy Joel, and Jay-Z and Alica Keys.
Luxury Homes in New York
While there is a broad range of housing in New York, you get the most from the city by living in a luxury apartment or house. Here's what you can expect when looking through listings of luxury homes.
More space
When you're paying top dollar for a home, you expect that there'll be a lot of it. Of course, space is at a premium in prestigious cities. While you can expect that more cost translates to bigger spaces, location will also be a significant factor. The median price/sqft of a place in Tribeca, Manhattan is $1,874. In Cobble Hill, a very desirable neighborhood in Brooklyn, this figure is $1,293. In Long Island City in Queens, the figure is $774.
Top end amenities
For a luxury residential building, a pool should come as standard. In the rush to provide the best living experience for owners, some buildings will have saunas, state of the art gym facilities, a massage room and service, and a games room.
There may also be communal or private terraces from where you could host a range of social gatherings.
Design and finish
You can expect great design and finishes from your New York luxury home. High end materials will be used throughout from the kitchen worktops to the bathroom cabinets. Everything should feel a cut or two above the norm. The furnishing can even include unique pieces of furniture curated by top professionals. Design, decoration, and finish should cohesively work together for a higher aesthetic home.
Service convenience
When you live in a luxury building, everything is designed to make your life as easy, stress free, and convenient as possible. An example would be laundry services which may be part of what the building offers, but if not, it will be easy to simply call the concierge to arrange your requirements.
There may also be 24 hour room service such as provided by the Trump International. When you order room service there, your food comes from a Two Michelin starred restaurant.
Security and safety
Security is very much a priority for the owners and there'll always be a doorman or security personnel at the lobby making sure that entry is reserved for people who are supposed to be there. This includes not only the owners or tenant, but their guests, and any service people you will require. Well trained, they are professional in their approach, always courteous, and firm in keeping the area secure.
Not only this, most luxury buildings and condos feature other security measures like CCTV and elevators which will only operate with a key-fob. A luxury residential building will go as far as to hire armed guards should they feel there is any potential danger for apartment owners.
Great views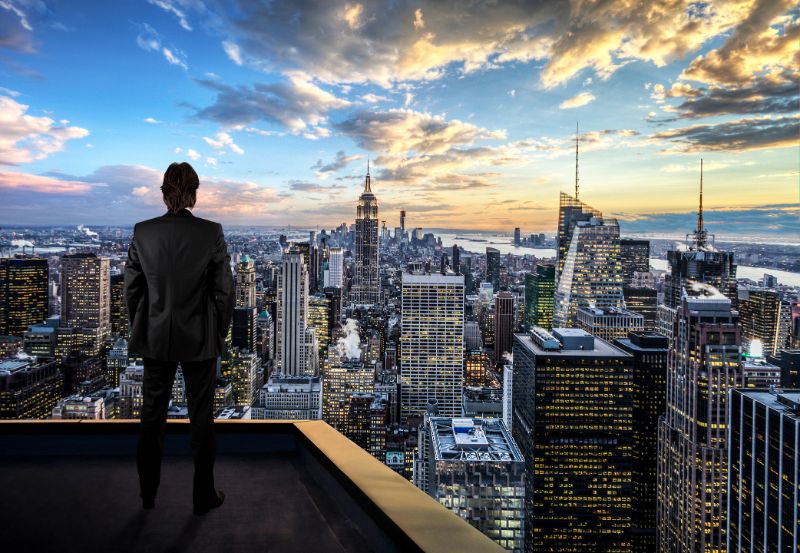 The better the view, the more you may have to pay. But in a city where there are many very tall buildings, getting a great view of New York is a commodity, and they come at a premium. The most sought after views are areas which provide a view of the rivers, famous landmarks and Central Park.
Connections
Living in an upmarket New York luxury home means having some of the most affluent, influential, and outright interesting people in the world as your neighbors. This can be extremely beneficial to your social life as well as for business, and career opportunities. While it would be unseemly to have too opportunistic an outlook to this benefit, it's still the case that being neighborly in luxury buildings can enhance all aspects of living in New York.
The importance of location
A key factor that distinguishes a home in New York is its location. At the very top, you're looking at The Penthouse in Manhattan which will set you back a mere $169M.
Amazingly, properties costing above $5 million, considered top end purchases for Manhattan, are up by 35% and are the fastest growing sector of the Manhattan market.
Currently, post Covid, the median price of an apartment in Manhattan is at around the $1M mark. This figure is an all time high for the borough, a trend that is being repeated across the nation. This market remains strong, however it is cooling down. This means that buyers can get some great deals in Manhattan.
At the other end of the scale, the most affordable housing can be found in Queens, or The Bronx, however this is not to say they are the best deals. The median price for a home in the Bronx is $325,000. Though this is indeed very affordable, you are not in a prime New York location.
There are so many things to consider when buying a luxury home in New York. It's very much recommended that you turn to a real estate professional. They'll help you figure out the best location and property for the life you want to have.
Neighborhoods
While generally, Manhattan represents the most sought after and expensive borough with the Bronx and Queens providing more affordable options, a close zoom into the neighborhoods could prove useful. Here are a few desirable neighborhoods and areas which you might want to look into.
Tribeca – doesn't have the high skylines of other areas in Manhattan making life feel as if it's being lived on a more human scale. It's a great place for the arts with many galleries and art houses dotted around. Homes usually come in the form of converted warehouses giving space and style. The median price for a home sold in Tribeca stands at around $3.5M.
Upper East Side – is great if you're looking for some of the best schools in Manhattan. There's the Rudolf Steiner School and also the Spence School both of which are considered elite private schools. The median cost of a home here stands at $1,252,700.
Huguenot – This neighborhood in Staten Island offers the least densely populated area of New York. It's generally much quieter than the rest of the city and there's an abundance of parks to enjoy. The median home price in Huguenot is $865,000.
Cobble Hill – Outside Manhattan there's a great neighborhood in Brooklyn. Cobble Hill has a strong Italian and French contingent and you'll often see that culture expressed through the many restaurants and the celebrations of national holidays of these countries. The median price for a home sold in Cobble Hill is $1.3M
Jackson Heights – This neighborhood in Queens is a vibrant melting pot of cultures, and is strongly influenced by South American and Asian communities. With easy access to Midtown – around a 30 minute journey – it represents a good balance between getting the home you want and being conveniently located for work. The median price of a home in Jackson is a very affordable $450,000.
Long Island City – This neighborhood in Queens has a great nightlife scene, plenty of art venues and a good mix of different restaurants. The median house price in Long Island city stands at $631,000. With demand lower than the homes available, Long Island City represents a good opportunity for buyers.
There are many great cities in the world but New York is truly unique. It has a rich past that covers some of the most important moments in American and world history, yet it continually strives forward and reinvents itself. It is an epicenter for art, culture, and commerce. It is varied and diverse, a place that buzzes with energy yet still has space for tranquility and natural beauty. Lastly, it always maintains itself as one of the top cities in the world according to almost every index and survey. Simply put, New York is one of the best cities on earth to live in.
Choosing the right broker
When you're buying a luxury home in New York, you need the best help you can get. I'm a veteran broker with over 20 years experience in the real estate markets of New York, LA and Barbados. In this time I've handled the whole range of different high end properties, from golf communities, beach and lakefronts, to luxury apartments.
I'd like to bring to you the determination, connection, knowledge, and marketing skills I've brought to all my clients and make your property goals a reality.
For more information or to start your New York buying or selling journey contact me at 310.367.7611 or send me an email at gil(at)propnation(dotted)com.